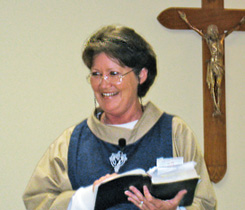 About Us
The group meets on  Wednesday evenings at 7:00 to listen to and learn Scripture.  In each session we study a different book of the Bible.  Sister Brigid unpacks the verses, and we open ourselves up to a deeper understanding of our faith through the written Word.
Visit Sister Brigid's Bible Studies Online
http://www.findingthetreasure.org/bible_studies.aspx
Contact Information
If you would like additional information about the various Bible study groups at Church of the Holy Family, please contact Sister Brigid via email at sr.brigidomahony@gmail.com.